The first ever Bradford Mela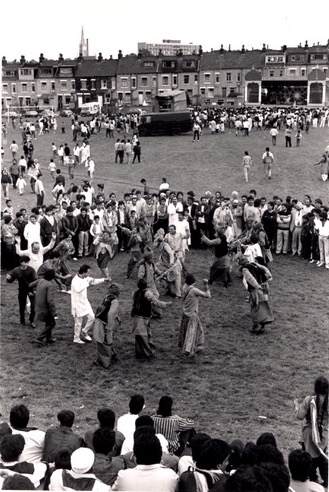 Together in 1988 Bradford Council, Bradford Festival and Oriental Arts created the first ever UK Mela with the intentions of celebrating South Asian culture in Bradford and bringing together people from different communities in the district. Before the Mela the only form of South Asian culture in Bradford was the Hindi cinema.
The Mela started out as an Asian event but became more diverse to reflect Bradford's cultural diversity and give something that the majority of people felt connected to. Bradford Mela ultimately became the Glastonbury of Bradford. From 1989 the Mela audiences grew from 10,000 to 50,000 people visiting, and from 1 day to a weekend-long event. The Mela attracted local, regional, national, and international artists and left behind a legacy that the majority of people from Bradford and the UK still remember.
Submitted by
Champak Limbachia
View image in lightbox